Strawberry Fun Food
Dippy Ideas
Strawberries are great to eat just plain, but it's also fun to dip them.
Try dipping them in


Powdered sugar

Vanilla yogurt

Vanilla pudding

Marshmallow cream

Whipped cream

Melted chocolate

Yogurt mixed with a little orange juice concentrate

Cinnamon sugar


Look in the Recipes section of this website for more easy dips.
Play with Your Food
Who says sandwiches need bread? Slice bananas and strawberries and make strawberry-banana sandwiches. Does the strawberry go on the outside or does the banana? Arrange them on a plate and eat them with toothpicks.
Variations:


Add kiwi fruit or apple slices.

Use marshmallow cream or vanilla pudding to stick them together.


Strawberry No-Jam Sandwich
Spread soft white bread with cream cheese. Slice ripe strawberries over the cream cheese. If desired, sprinkle with sugar or drizzle with honey. Slap on another slice of bread and eat.
Freeze Your Own
When your family brings home fresh strawberries from the farm, choose
your
favorite berries, remove the caps, and pack them into small containers, like yogurt cups. Write your name on the containers and freeze.
When you want a snack, take out one of your containers, microwave it for a few seconds, and eat the partly thawed berries.
Do you like the small berries or the large ones best?

Smooth Stuff
 Strawberries are great in smoothies. Here's one recipe:
1 cup vanilla yogurt

1/2 cup fresh strawberries

1/2 banana

1/4 cup apple juice
Toss it all in the blender, blend until smooth.
You don't really need a recipe to make a good smoothie. Experiment with different combinations of fruit, milk products (milk, yogurt, ice cream), juices (apple, orange, cranberry, pineapple...). Add crush iced for a slushy. If the smoothie isn't sweet enough after you blend it, add a little sugar or honey to taste.
Super-Easy Strawberry Shortcake
Cut up some strawberries and sweeten with sugar. Let stand a few minutes until very juicy. Make cinnamon toast with cinnamon sugar and butter. Top toast with sweetened strawberries and your favorite whipped topping. This is very easy and yummy!
You can also do this by putting the strawberries on slices of pound cake or angel food cake. Top it with whipped topping or vanilla ice cream.  We call this one "Strawberry Shortcut!"
Visit the Recipes section for more strawberry food ideas. The "Kids" and "Easy" recipes are ones you can make with little or no help.



Strawberry Facts and Trivia
Read this, and you'll know more about strawberries than most grown-ups do!
North Carolina Numbers


North Carolina is the fourth largest producer of strawberries in the country.


Almost all strawberries grown in North Carolina are eaten right here in the state.


Growers who plant on plastic set out about 17,500 plants per acre each fall.

(Do you know how big an acre is? It's about three-fourths of a football field.)


One acre can yield as much as 20,000-30,000 pounds of strawberries over the season.


NC Strawberry History
Back in the early 1900s, the Chadbourn area of Columbus County, NC was a major strawberry shipping area. Growers there shipped out as much as 180 railroad boxcar loads in a single day in 1907!
More Numbers


A strawberry flower usually has 5-7 petals.


It takes about a month from when the flower first opens for the fruit to become ripe and ready to eat.


The average strawberry has 150-200 seeds on its surface.


Strawberry Science
Strawberries are in the same botanical family as roses, apples, pears, peaches, blackberries, and raspberries. The family is called Rosaceae.The strawberry's closest edible relatives are blackberries and raspberries. We're glad that strawberries don't have thorns, too!
Although strawberry seeds can grow to make new plants, most strawberry plants reproduce by runners. The plant sends out long stems-kind of like tentacles-that form small daugher plants at their tips. These daughter plants put down roots and send out more runners and form more daughter plants, and then more daughter plants and morerunners and more daughter plants...  You get the idea!
Strawberry plants are perennial. Though most strawberry growers replant yearly or every few years, strawberry plants can live for many years. If they are in a good place and don't get attacked by diseases, deer, or other problems, they form matted colonies that can live as long as 50 years.
A World Traveller
The modern cultivated strawberry was developed in Europe, but none of the three wild European kinds (or species) of strawberries is a parent ofthe strawberry we eat today. Instead, it is a cross between the native North American wild strawberry, Fragaria virginiana, and the South American wild strawberry, Fragaria chiloensis. European travellers had brought back plants from North and South America and planted them in their gardens. At first the crossing just happened because the two kinds were near each other. Then, people began to cross the two species on purpose.
Today, strawberries are grown on every continent except Antartica.
---
For more strawberry info and trivia than you can imagine, visit Strawberry Jamm

One BIG Strawberry!
This photo gives you a good idea of how big the berry was. Its exact weight was 0.272 lb.
The strawberry pictured was picked on the farm of NCSA member Clyde Gurosick in April of 2002. The Camarosa-variety berry weighed over a quarter of a pound and was over four inches wide. Says Clyde, "We displayed it in our glass-doored, farm market cooler in an egg carton for the public to observe for several days. Then we gave it back to the man who picked it, Lorenzo, who gave it to his two-year-old daughter, Stephanie. She said it was very sweet despite its enormous size."


Compare the big berry with the normal size berries behind it.
The first berries from the first flowers on a strawberry plant are usually the biggest and sometimes have unusual shapes. Sometimes you see a berry with a "nose" or with a green "baby" strawberry connected to a big ripe one.
2011 Kids' Strawberry Art Contest Winners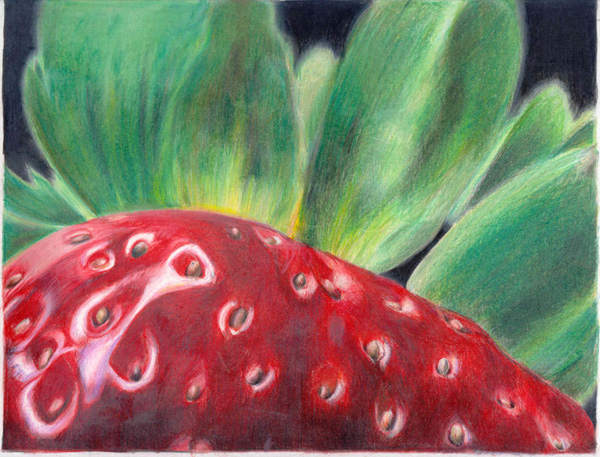 Below are the prize winners and honorable mentions awarded by our panel of judges. Click on the names to see their artwork. More than 700 entries were submitted for this contest, and the judges had to work hard to make their final selections. Besides the original grade level categories, they created two additional categories: "Posters" includes entries that combine drawings and words and tend to convey a message; these were chosen based on this combination of elements. "Realistic Observation" recognizes additional artists at all grade levels who did a noteworthy job of depicting strawberries or a strawberry farm. The remarkable drawing to right, by eighth grader Myah Wise, was selected as "Best of Show".
Thank you to all young artists who participated. Thanks also to the parents and teachers who supported them in this effort and helped send in their entries.
Grade K-2 Winners
Ashby Bleau, 1st grade, Graham A Barden Elementary School, Havelock, NC
Ella Benham, 1st grade, Concord, NC
Charlie Penny, 2nd grade, Hampstead, NC
Grade K-2 Honorable Mention
Camila Muro, Kindergarten, CC Bell Elementary, Asheville, NC
Kendall Arneson, 1st grade, Perquimans Central School, Winfall, NC
Kenny Pierce, 2nd grade, Perquimans Central School, Winfall, NC
Drew Wagenschutz, 2nd grade, Charlotte, NC
Allen Cox, 2nd grade, Gouge Elementary School, Bakersville, NC
Grade 3-5 Winners
Emily Kuch, 3rd grade, Fayetteville, NC
Taylor Morgan, 5th grade, Hopewell Elementary School, Trinity, NC
Savanna Spruill, 5th grade, Hopewell Elementary School, Trinity, NC
Grade 3-5 Honorable Mention
Amelia Tipton, 3rd grade, Tipton Freedom Academy, Morganton, NC
Shakia Smallwood, 3rd grade, Bostian Elementary School, China Grove, NC
Grace Aguilar, 4th grade, Pittsboro Elementary School, Pittsboro, NC
Emily Parker, 5th grade, Huntersville, NC
Faith Skipper, 5th grade, Hopewell Elementary School, Trinity, NC
Kristen Slone, 5th grade, Hopewell Elementary School, Trinity, NC
Makayla Hamm, 5th grade, Hopewell Elementary School, Trinity, NC
Grade 6-8 Winners
Myah Wyse, 8th grade, Waxhaw, NC BEST OF SHOW
Kassie McWhorter, 8th grade, Waxhaw, NC
Richard Washington, Jr., 7th grade, Littlefield Middle School, Lumberton, NC
Grades 6-8 Honorable Mention
Rachel Kimmins, 6th grade, China Grove, NC
Mikayla Stone, 7th grade, Henderson, NC
Jordan Jenkins, 7th grade, Bessemer City Middle School, Bessemer City, NC
Torey Wagenschutz, 8th grade, Charlotte, NC
Nice decorated envelope also
MK Smith, 8th grade, Voyager Academy, Durham, NC
Claudia Flores, 8th grade, Watha, NC
Posters Winner
Leah Gracely, Kindergarten, Holly Springs, NC
Posters Honorable Mention
Annica Sutton, 4th grade, Sam D. Bundy School, Farmville, NC
Madison Hales, 5th grade, Beaver Dam Elementary School, Roseboro, NC
Nick Dover, 7th grade, Bessemer City Middle School, Bessemer City, NC
Spell Carr, 7th grade, Sampson Middle School, Clinton, NC
Justin Shepherd, 8th grade, Voyager Academy, Durham, NC
Realistic Observation Honorable Mention
Robbie Altier, 1st grade, Beaver Dam eElementary School, Roseboro, NC
Jessenia Zamudio Rico, 4th grade, Dana Elementary School, Hendersonville, NC
T.J. Raby, 4th grade, Rockfish Hoke Elementary School, Raeford, NC
Nya Cooper, 4th grade, Rockfish Hoke Elementary School, Raeford, NC
Andrea Williams, 4th grade, New Bern, NC
Liam Hamilton, 5th grade, New Bern, NC
Zinna Larson, 6th grade, Shai-D Acres Academy, Concord, NC
Thanks again to all our young artists!
Our 2006 Strawberry Art Contest Winners
Many thanks to all the kids that sent artwork and all the parents and teachers who helped them. If you have suggestions for a contest next spring, please let us know.
[Click on the link to see the drawings]
Grades K-2

First Place, Emily Polich, High Point, NC. Second grade, Southwest Elementary School

Second Place, Christin Oliver, Lumberton, NC. Kindergarten, Tanglewood Elementary School.

Third Place, Elizabeth Looney, Wilmington, NC. Second grade, Ogden Elementary

Honorable Mention, Lilly Shefield, High Point, NC. Kindergarten, Art Academy of High Point

Honorable Mention, Jacob Naegle, Wake Forest, NC. First grade, Franklin Academy

Honorable Mention, Alex Peck, Wilmington, NC. Second grade, Alderman Elementary School [Not pictured]
Grades 3-5

First Place, Anna Claire Jamieson, Chapel Hill, NC. Fifth grade at North Chatham School

Second Place, Jonathan Davis, Clarkton, NC. Fifth grade at Booker T. Washington Primary

Third Place, Abby Lambert, Greensboro, NC. Third grade, Artist Resource Center

Honorable Mention, Laurel Melito, Wilmington, NC. Third grade, Ogden Elementary

Honorable Mention, Morgan Pegg, Burlington, NC. Fifth grade, MB Smith Elementary School

Honorable Mention, Madeline Blythe, Greensboro, NC. Third grade, Artist Resource Center
Grades 6-8

First Place, Sally Kim, High Point, NC. Seventh grade, Southwest Middle School

Second Place, Cristal Hernandez, High Point, NC. Seventh grade, Southwest Middle School

Third Place, Tasnova Amanulla, Ozone Park, NY. Eighth grade.

Honorable Mention, Tyler Webster, Yanceyville, NC. Eighth grade, Dillard Middle School [Not pictured]
Grade 6-8 Writing Contest Winners
Strawberries
First place winner, by Haley Wilkinson, Bessemer city, NC, sixth grade
I love to be around strawberries, they remind me of springtime (my favorite season), and I always feel so relaxed around the smell. When my family goes to the strawberry farm near my house, I get to pick some and usually only about half of them make it home. But they taste even better when we get home because I dip them in chocolate or cover them in sugar. My favorite thing to do with strawberries is to leave them in our refrigerator overnight, so they will be cold and sweet in the morning. I love to eat them for breakfast! Strawberries are wonderful, and I think you have to be crazy not to like them. In my opinion, strawberries are the best fruit in the world!
Strawberries
Second place winner, by Kelsey Annas, Greensboro, NC, seventh grade
I have three words to describe strawberries. They are refreshing, delicious, and FUN! If you have never tasted a strawberry then I recommend you try one immediately. Strawberries are fantastic!
Strawberries are great in so many ways. I especially love how refreshing they can be. When I have been out picking strawberries and I come inside and I am hot and thirsty, a big, juicy strawberry hits the spot. SO refreshing! The only word to describe it is "heaven"!
Strawberries can also be a lot of fun. Every year my grandparents load me and my cousins in the truck and off we go for a fun time of strawberry picking. We always have a blast. We love to race and see who can pick the most in the shortest time. Sometimes that can be a challenge as we are eating them as we pick them!
When we get home with our strawberries we have picked, then the real fun begins. We start cleaning all the strawberries and cutting them up. We bag them so that we can put some in the freezer and have them in the wintertime, too. There are so many delicious things to do with strawberries. My grandmother makes strawberry shortcake. Sometimes we make homemade strawberry ice cream. We also make yummy strawberry muffins. There are so many delicious recipes that can be made with strawberries!
Strawberries should be called smile berries because they make me smile!
Sweet, Sweet Strawberries
Honorable Mention by Anastasia Hilton, Chapel Hill, NC, seventh grade
I think strawberries are the best fruit ever. I love the way the little yellow seeds crunch. But my favorite thing to do with strawberries is to make jelly. It is a family tradition to make fresh strawberry jelly every year. My family and I all go out to pick strawberries. I am great at finding large, juicy strawberries that are perfect for jelly. Once all of us have full baskets (and I mean FULL), we go home to begin. Dad always looks through to find any creatures that came home from the berry patch. Once we start making jelly, the whole house smells like sweet strawberries. When the jelly is all done, I make a huge batch of toast. We all cover our toast with strawberry jelly and dig in!
Another thing I like is planting my own strawberries and watching them grow. Once I have planted my new strawberries, I take very good are of them. Bees always flock around my strawberry plant. Butterflies love my strawberry plant too. All kinds of beautiful creatures are attracted to my plant, giving me a lovely view of nature's wonders. I really do love my strawberries.
My very favorite thing, however, about strawberries is that they have so many uses. Strawberry jelly, strawberry honey, and strawberry pancakes are all great treats. Strawberry soap and strawberry body lotion make me smell great. I have a really cute strawberry bedspread. Obviously, I'm not the only one that loves strawberries. So, just think on this: with so many uses, who wouldn't love strawberries.
Grade 3-5 Writing Contest Winners
The Secret of the Grumpy Green Strawberry
First place winner by Nikita Chintalapudi, West End, NC, fourth grade
Fresh dew glistened on the leaves like tiny diamonds. The breeze gently brushed the blades of grass making them look like dancers on a platform. Everything was quiet at the Strawberry Farm as the sun's warm fingers tickled my face. I woke up with a yawn and glanced around to behold the sea of raging waves foaming ripe red strawberries. Am I the only one awake? I began to scornfully tease the other strawberries about being sleepyheads. Then all of a sudden, I heard the excited chatter of children. I straightened my green mop and pushed myself to the front, slathering my face with a sheet of sparkling dew. As I impatiently squirmed about for some chubby fingers to pluck me, I felt them swish past me and grab a raging red strawberry that was behind me. "Hah! I was in front," I grumbled. "Why don't they pick me? I'm just as good." Then it struck me. I'm different. They're red, I'm green. Something desperately needed to change but what? I'm big. I'm beautiful. But always green with envy. That's it! It's my character.
Soon after that I learnt to be patient and allowed the sun to warm my heart, till I changed from a grumpy green to a radiant red. Not long after that I heard the distant pitter-patter of little feet. I lifted my green mop and listened carefully. Yes! The children were back! I smiled sweetly, as little hands bent down and plucked me, and dropped me in a bucket with all the other giggling strawberries. I was so happy! Minutes later, I heard a voice say, "Mommy, can I have strawberry"? And before I knew it, I was being scooped up in a cloud of cool whip. I looked like a bride dressed in white. Then came my prince with pearly white teeth, chewing and savoring my essence. My heart sang a melody because I had learnt the secret of changing from a grumpy green to a radiant red strawberry.
Picking Strawberries
Second place winner by Jessie Hayworth, Winston Salem, NC, fourth grade
"Hurry, Mommy, hurry!" I yelled from inside our tan, old, pickup truck. In our overalls, straw hats, and bright red shirts, my mom and I were going to pick strawberries! We pulled into the driveway of the farm, snatched our buckets, and sprang into action. We rushed to the first row of bright green leaves blooming from black plastic nailed to the ground. Best of all, below the leaves, growing, were ripe, scrumptious strawberries. Mommy started on the first row and I started on the second one.
After about one hour of sweating, searching, and picking strawberries, our huge buckets were full, and we paid for the strawberries. We hopped back into the pickup and traveled home.
Once we arrived home, we unloaded our strawberries into the kitchen. We dumped them in a pan in the sink and started to wash them. Finally, we were done rinsing and washing. We separated them strawberries into two full bowls. We plopped them into our mouths, tasting the splendid, juicy strawberry goodness.
I love all fruits but my favorite is strawberries. North Carolina's strawberries are the best.
Good Pick'n
Honorable Mention, by Eleni Brantley, Pittsboro, NC, fourth grade
What's something that we all like, with sweet, juicy goodness in every bite? Strawberries, of course! Go on, just grab a basket and be on your way. When you get there, first just take a look at the beautiful scenery. That's what I always do. I see the bright red strawberries glowing in the sun. Then I sprint into the wide field. The delicious aroma greets my nostrils. Then I bend down and pick strawberry after strawberry. After I get a bucket full, I feel elated. I now join my strawberries with all the others and we pay for them. I jump in the car excited about trying one of the wonderful berries. When I get home, I pick the biggest one, sprinkle a bit of sugar on it, and take a bite out of it. Yummm!
Strawberry Shortcake
Honorable mention by Sean Nguyen, High Point, NC, fifth grade
Strawberry shortcake piled with whipped cream,
I could eat it and eat it, all day it seems.
Big as a table, I'd like it to be;
With a giant strawberry on top for me.
The cake so big with berries piled high,
With lots of whopped cream up to the sky.
I'm going to eat it and eat it, and share it with frields,
We're going to eat and eat until it ends!
Strawberries
This is a group story by the fourth and fifth grade English as a Second Language class at Montlieu Elementary in High Point, NC (the class of Sean Nguyen, honorable mention above). It was not eligible for an award, but we liked it and wanted to include it here.
Strawberries are special to us. They remind us of family, friends, and love. In our class, we are from different countries. Mohamed remembers strawberries in Egypt. He remembers his dad juggling strawberries near a pyramid. When he was little, Mohamed was crying. His father gave him a strawberry to eat. He stopped crying.
Michelle is from El Salvador. Her mom has recipes from El Salvador. One of Michelle's favorite recipes is one she learned from her mom. Only three ingredients are needed: strawberries, sour cream, and cinnamon. Blend together the sour cream, cinnamon, and a few of the strawberries. Pour this mixture over the berries. Enjoy!
Sean's family is from Vietnam. He does not remember strawberries in Vietnam. His first memory of strawberries is picking them in Pennsylvania. Eating strawberries makes Sean smile because they taste good, and each one looks like a little heart.
Ronald is from Mexico. He thinks about strawberries on Valentine's Day because his father gave his mother a bunch of flowers with little strawberries tied to the ribbons last February 14. When Ronald was in Mexico, he liked to pick strawberries and squish them a little bit between his fingers to make them juicier. Then, he'd pop the juicy berries into his mouth to eat. In North Carolina, Ronald remembers seeing a huge strawberry at the state fair. He got to taste strawberries there.
We like strawberries very much. They are sweet, and sometimes sour, but always fun to eat. We think about family, friends, and love when we eat strawberries.
Grade K-2 Writing Contest Winners
I Love Strawberries
First Place winner by Kristin Wall, High Point, NC, second grade
Every year, I go to pick strawberries with my mother. Yesterday we picked a bucket-full. It's early in the season, so we will probably go again in a couple weeks. When we go to pick strawberries, I also like to smell the honeysuckle and pick the flowers and eat the honey that is in the flowers.
My favorite ways to eat strawberries are plain dipped in sugar, jam on toast, dipped in chocolate, and in smoothies.
One year, my mother, sister, and I made an American flag cake. We put white icing, then blueberries for the star field, then rows of sliced strawberries for the red stripes. We made it for the 4th of July. It was very delicious.
Right now, my dad is making whipped cream to put on top of strawberry shortcake. It will be delicious.
I love when strawberry season comes.
The Humungous Strawberry
Second Place winner by Madison Sentner, Greensboro, NC, first grade
Once upon a time there was a little girl named Madison that went to the strawberry farm with her first grade class. She was so excited about the field trip because her mom was there too. At the farm, she saw lots and lots and lots of strawberries. Madison found out that picking strawberries is like hunting for Easter eggs because you have to look under the leaves to find the best ones. Madison was looking for the best strawberries when she found one that was humungous...the biggest strawberry she had ever seen. She picked the strawberry and put it in her basket. At home that night she dipped her humungous strawberrry in white chocolate and she ate it all gone. It was juicy and delicious!
Filling My Bucket
Honorable Mention by Courtney Weathersby, Whispering Pines, NC, grade K-1
The best part of picking strawberries is filling up my bucket. First I get a bucket. Then I find a row and start picking at the flag.
I only pick the strawberries that are ripe. I look at the berries all the way around to make sure they are red. I am careful not to pick off other stems where new strawberries may grow.
I like to pick big and little strawberries. Little strawberries are very juicy and big ones are yummy!
When I fill up my bucket, I take it to the Strawberry Man who weighs them. My Mommy pays for them and puts them in the car and we take them home.
Extreme Picking
Honorable Mention by Maegan Maroney, Kipling, NC, second grade
Once I went to a strawberry patch. When I got there I smelled the air. It smelled very, very fruity. Then we went picking. When I grabbed a strawberry it felt very smooth. Something very surprising is SOME WERE GREEN! Strawberries are mostly red. I gave them to my mommy and in one week flat they were gone. Sheeeeeeeesh! I did not even get a lick.
Sorry, I have to go........................I have to pick more strawberries! And do not let mommy eat them because I want a taste! Good bye! Strawberry picking here I come!
The Strawberry Farm
Honorable Mention by Allison Snook, New Bern, NC, kindergarten
One day I and my mother went to the strawberry farm.
And when we picked them they made a "POP" sound.
And it was so funny!
Our 2002 Strawberry Art Contest Winners
We had almost 450 entries in the NC Strawberry Association's first-ever Kids' Art Contest in the Spring of 2002. Many of these came from schools while others were sent by individual kids from as far away as California.
It was hard to choose the winners. We picked a total of 13 entries as winners in our four age categories. These winners all received gift certificates and sketchbooks. We gave 11 others Honorable Mention.
Many thanks to all the kids that sent artwork and all the parents and teachers who helped them. If you have suggestions for a contest next spring, please let us know.
[Click on the name to see the drawings]
Age 12-15 Winners

Zenobia Lacey, Fort Stewart, Georgia

Austin Liles, Charlotte, NC
Age 9-11 Winners

Megan Cates, Hopewell Elementary School in Trinity, NC

Christen Gibbs, Fairfield, NC (Mattamuskeet Elementary School in Swan Quarter)

Stormi Nance, Colfax Elementary School in Colfax, NC
Age 9-11 Honorable Mention

Sarah Barker, Colfax Elementary School in Colfax, NC

Brandy Johnson, Mattamuskeet Elementary School in Swan Quarter, NC

Jacob Loeber, Scranton, NC (Mattamuskeet Elementary School in Swan Quarter)

Alex Reynolds, Chesterfield Township, Michigan

Phillip Vo, Hopewell Elementary School in Trinity, NC

Age 6-8 Winners

Hillary Crooks, Hopewell Elementary School in Trinity, NC

Caitlyn Ellis, Pilot Elementary School in High Point, NC

Destiny Ragalia, Pilot Elementary School in High Point, NC

Joey Sandelli, Moyock, NC

Ariel Watts, Salisbury, NC
Age 6-8 Honorable Mention

Haley Cecilia Brinkley, Valdese Elementary School, Valdese, NC

Mike Medlin, Pilot Elementary School in High Point, NC

Brittany Stone, Pilot Elementary School in High Point, NC

Heather _____, J.W. York Elementary School, Raleigh, NC
Under 6 Winners

Corey King, Hopewell Elementary School in Trinity, NC

Jenna Schmidt, Charleston Collegiate School, Johns Island, SC

Haley Watts, Salisbury, NC
Under 6 Honorable Mention

Erika Brinkley, Hopewell Elementary School in Trinity, NC

Keean Reynolds, Chesterfield Township, Michigan

Art Gallery Submissions
[Click on the name to view the art]
The following pictures were sent by Brenda Ingram, Exploring Career Decisions Teacher, Grantham School, Goldsboro, NC. Her class studied what kinds of things a strawberry grower would need to know and concluded their study by drawing strawberry pictures.
Stephanie Cox, age 12, Grantham Middle School, Goldsboro, NC

Renee Suggs, age 12, Grantham Middle School, Goldsboro, NC

Shayne Sullivan, age 11, Grantham Middle School, Goldsboro, NC

Stephanie Worley, age 12, Grantham Middle School, Goldsboro, NC
Strawberry Art Gallery: Artists Wanted
Calling all kids...and even grown-ups! Draw or paint a picture relating to strawberries and send it to us. Show us how beautiful strawberries are. Be inspired by your visit to a strawberry farm. Share your favorite way of eating strawberries. We'll put as many pictures as we can in our new Strawberry Art Gallery.
Send your artwork one of two ways:


Email a digital version to the NC Strawberry Association.

Mail your artwork to NCSA, 1138 Rock Rest Rd., Pittsboro, NC 27312. If you enclose a postage-paid envelope, we will return your artwork to you.


Be sure to include your name, where you are from, and your age.