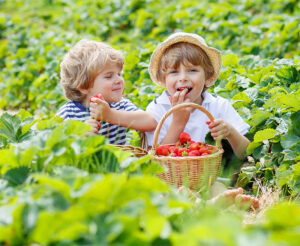 Thanks for visiting our website. Check below for information about visiting farms, strawberry handling and nutrition, and the commercial strawberry industry. Don't forget to visit the Kids and Recipe sections, too.
2018 Promotional Items ORDER FORM
2016 State Agriculture Overview
Caring for Your Strawberries
Strawberry Measurements
1 pint basket of berries = 2½ cups whole berries
1 pint basket of berries = 2¼ cups sliced berries
1 pint basket of berries = 1¾ cups pureed berries
1 pint basket of berries = about 12-14 large berries or 16-20 medium berries
1 quart of berries weighs about 1¼-1½ pounds
1 flat of berries (8 quarts) weighs about 12 pounds
1½ to 2 quarts are needed for a 9" pie
1 cup sliced fresh strawberries = one 10 oz. package of frozen strawberries
1 cup of strawberries contains approx. 50 calories.
---
Strawberry Jam
Strawberry jams may be either freezer jams, generally using uncooked berries, or traditional cooked jams. Freezer jams using uncooked berries have a lovely fresh taste, but don't keep as long..
Freezer Strawberry Jam
(a standard recipe, from many sources)
2 cups washed, crushed strawberries (start with about 1 qt whole berries)
4 cups sugar
3/4 cup water
1 box powdered fruit pectin (1 3/4 oz.)
Place crushed berries into a large bowl. Add the sugar to the fruit, mix well, and let stand for 10 minutes. Mix water and pectin in a small saucepan, bring the mixture to a boil, and boil for 1 minute, stirring constantly. Remove from meat and stir the pectin into the fruit. Continue stirring for 3 minutes. Ladel quickly into serilized freezable jars, leaving � inch of headroom. Seal immediately with sterilized tight-fitting lids. Let jars stand at room temperature until the jam is set. Freeze. Makes 5-6 8-ounce jars.
Sugarless Strawberry Freezer Jam
Good for diabetics.
1 1/2 tsp. unflavored gelatin
1 1/2 Tbsp. cold water
3 cups washed and hulled fresh strawberries, mashed
1 1/2 Tbsp. liquid sweetener
1/4 tsp. ascorbic acid powder
Red food coloring if desired
In a cup, soften gelatin with water and set aside. Combine mashed strawberries and sweetener in a medium saucepan. Place over high heat, stirring constantly until mixture comes to a boil. Remove from heat. Add softened gelatin. Return to heat and continue to cook 1 minute. Remove from heat. Blend in ascorbic acid powder and food coloring. Pour into freezer containers. Cover. Store in refrigerator or freezer.
From "Strawberry Eats & Treats" a cookbook by the North American Strawberry Growers Association, www.nasga.org.
Strawberry Jam advice
From The Vollmer Farm, in Bunn, NC:
People always ask about jam recipes, and although we'd love to elaborate on an age-old, handed-down family recipe, we can't. Everyone we know uses the recipes on the inside of the Sure-Jell box. We can, however, give you a few critical tips:
You can use either regular Sure-Jell or Sure-Jell Light for strawberry jam. Both can be found in the supermarket. We like to use Sure-Jell Light. It uses much less sugar and the jam is equally as good.
Check the expiration date on the Sure-Jell box. Do not purchase if dated the same year you are making the jam, or you waste a lot of time for nothing.
A "rolling boil" means really bubbling. Juice is flying everywhere. Wear your apron!
Follow the directions precisely.
Jean's Strawberry Jam
This recipe for a cooked freezer jam, from Jean Copeland of Jean's Berry Patch in Apex, NC, uses no pectin products.
4 cups strawberries, hulled
4 cups sugar
2 Tbsp. lemon juice
Mix the berries and 2 cups of the sugar in a large sauce pan. Heat to boiling, stirring constantly. Boil for 2 minutes, continuing to stir. Add the remaining 2 cups of sugar. Return to boiling and stir while the mixture boils for 3 minutes. Remove from the heat. Add the lemon juice. Pour int a large bowl and skim the top. Stir frequently, skimming the top. Cover the bowl and let stand overnight. Pour into jars, cover with lids, and freeze. Makes 2-3 pints. Store this jam in the freezer until ready to use. After opening, it keeps for up to 3 weeks in the refrigerator.
Traditional Strawberry Jam (cooked)
5 cups crushed berries (start with 2 qts. whole berries)
7 cups sugar
1 box powdered fruit pectin
Stir powdered pectin into the berries. Bring berries and pectin to a boil and add sugar all at once. Again, bring the mixture to a boil for one minute, stirring constantly. Remove from heat and fill jars.
Old Fashioned Whole Berry Preserves
This recipe comes from Rudd's Farm, in Greensboro, NC (www.ruddfarm.com).
6 cups fresh small fully ripe whole strawberries,washed and hulled
Boiling water to cover strawberries
1/2 cup lemon juice
6 cups sugar, divided
In a large saucepan, cover berries with boiling water; let stand 3 minutes to soften. Drain water and discard. Combine berries and 3 cups of the sugar in a 6 to 8 quart saucepan. Bring to a boil over high heat, stirring constantly. Reduce heat; continue to boil slowly on medium heat 8 minutes, stirring constantly. Add remaining 3 cups sugar and lemon juice. Boil 10 minutes more, stirring constantly. Using a candy thermometer, bring to the gelling stage of 220-225 degrees. Remove from heat. Stir and skim off foam with metal spoon for 2 minutes. Pour jam into shallow baking dish to cool completely. When cold, put in sterilized jars and freeze or process.
If your jam doesn't jam:
Don't despair! It will still be delicious. Use it as a sauce for pancakes, waffles, yogurt, ice cream, pound cake, etc.
---
Freezing Strawberries
Whole berries: Place one layer of clean, capped berries on a cookie sheet and freeze until firm. Remove from cookie sheet, package in freezer bags, and seal.
Packing with sugar: Slice berries in halves or thirds. Mix with sugar (six cups sliced fruit to one cup sugar). Allow to stand until sugar dissolves (about 10-15 minutes). Pack the fruit and juice into freezer bags or containers. Leave 1/4-inch head space for pint containers.
Packing without sugar: Strawberries may also be packed whole or sliced without sugar or with minimal sugar, but the color and texture of the thawed fruit won't be as good.
Good for kids: Let kids cap and pack their choice of berries into pint yogurt containers, put their names on them, and freeze. For a quick, nutritious snack, thaw container slightly in the microwave and let kids eat their partially frozen berries straight from the container.
---
Strawberry Care and Handling
The best strawberries are the ones you pick yourself or buy from your local strawberry farm. These berries will be the freshest you can get, with little or no handling and travel. Nothing beats the flavor and fragrance of fresh-picked strawberries! Also watch for locally-grown strawberries in your neighborhood supermarket during the harvest season.
Picking
Pick by pinching the stem of the berry between your thumb and forefinger. This will prevent damage to both the fruit and the strawberry plant. Leaving the caps on helps your strawberries last longer. When selecting berries look for the ones that are plump, firm, and well colored. These are the best for all your needs--freezing, preserving, or eating just the way they are.
Storing
Strawberries are best when prepared and eaten in the same day, but if you must keep them longer, store them in your refrigerator. Arrange the berries in a shallow container, separating out any damaged berries. Cover them loosely, and keep at 35 degrees for best results. Do not remove the caps or wash the berries until you are ready to use them. When caps are removed before use, the berries lose some of their moisture. Washing early tends to bruise them and the berries lose their freshness.
Preparing
When preparing (for whatever use), place the berries in a strainer and rinse with cool water. To remove the caps, give the caps a gentle twist or use the point of a sharp knife, trying not to remove any of the berry. The tip of an ordinary vegetable peeler makes a good tool for capping berries.
Find Strawberry Farms Near You
Farms Offering Tours to Groups
The following member farms offer tours to school groups, pre-school groups, and home school groups according to the best information we have as of April 17, 2014. Other farms may also offer tours--just contact the farm directly to ask. Some offer programs for physically or mentally challenged adults as well.
Many farms offer strawberry tours in the spring and pumpkin-related tours in the fall. Note that some farms may offer tours ONLY at one season. Farms generally offer age-appropriate educational activities as part of their tour. Some have facilities for snacks or picnicking or include special activities such as hayrides, petting zoos, play areas, etc.
A few suggestions:
Contact the farm as far in advance as possible. Many farms get booked up very early. Ask about farm rules, chaperone and age requirements, fees, rain dates, etc. On the day of your tour, be sure to arrive at the time you are scheduled.
For contact information for all farms: Consult our Strawberry Farm Locator. North Carolina farms listed below are grouped by regions and counties, as shown on the Farm Locator NC regions map. Others are grouped by state.
Eastern North Carolina
Airport U-Pick, Elm City, Nash County
Bailey's Berry Farm, Bailey, Nash County
Christmas Place Farms, Bullock, Granville County
Cottle Farm, Faison, Duplin County (and other locations)
Deans Farm Market, Wilson, Wilson County
Fisher Farms, Whitakers, Nash County
Indigo Farm, Calabash, Brunswick County
Jackson Farming Co., Autryville, Sampson County
Jones Fruit Farm, Walstonburg, Greene County
Mitzi Powers Strawberries, Lumberton, Robeson County
Odom Farming Company, Goldsboro, Wayne County
Smith's Nursery & Strawberry Farm, Benson, Johnston County
Southside Farms, Chocowinity, Beaufort County
Strawberries on 903, Winterville, Pitt County
Williams Farm, South Mills, Camden County
Central North Carolina
Bernie's Berries, Greensboro, Guilford County
Buckwheat Farm, Apex, Wake County
Gary Thomas Farms, Sanford, Lee County
Gross Farms, Sanford, Lee County
Ingram Farm, High Point, Guilford County
Iseley Farms, Burlington, Alamance County
Lyon Farms, Creedmoor, Granville County
M&M Farms, Monroe, Union County
Rudd Strawberry Farm, Greensboro, Guilford County
Page Farms of Raleigh, Raleigh, Wake County
Porter Farms & Nursery, Willow Spring, Wake County
Whitaker Farms, Climax, Randolph County
Western North Carolina
Carrigan Farms, Mooresville, Iredell County
Hall Family Farm, Charlotte, Mecklenburg County
Lattimore Farms, Lattimore, Cleveland County
Linebergers' Berry Hill Farm, Iron Station, Lincoln County
Linebergers' Maple Springs Farm, Dallas, Gaston County
Patterson Farm, China Grove, Rowan County
The Farmers Daughter, Taylorsville, Alexander County
South Carolina
Cottle Strawberry Farm, Hopkins
Family Farm, Taylors
Gurosik's Berry Plantation, North Augusta
Lever Farm, Pomaria
Quiet Brook Produce, Darlington
Sandy Flat Berry Patch, Taylors
Springs Farm, Fort Mill
Strawberry Hill, USA, Chesnee
Georgia
Calhoun Produce, Ashburn
Copeland Farms, Rochelle
Lane Packing, Fort Valley
Mercier Orchards, Blue Ridge
Mitcham Farm, Oxford
Moon Farms Country Market, Colbert
Ottawa Farms, Bloomingdale
Southern Grace Farm, Enigma
The Strawberry Patch/Taylor Orchard, Reynolds
Virginia
Brookdale Farm, Virginia Beach
College Run Farm, Surry
Cullipher Farms, Virginia Beach
Miller Farms Market, Locust Grove
Lilley Farms and Nursery, Chesapeake
Reese's Farm Fresh , Scottsburg
Westmoreland Berry Farm, Oak Grove
Other States
Sweet Berry Farm, Marble Falls, TX
---
---
North Carolina Strawberry Farm websites:
Airport U-Pick, Elm City, NC
Bernie's Berries, Greensboro, NC
The Berry Patch, Robersonville, NC
Britt Farms, Mount Olive, NC
Brock Farms, Winterville, NC
Buckwheat Farm, Apex, NC
Carrigan Farm, Mooresville, NC
Country Road Strawberries, Pinnacle, NC
Cottle Farms, Faison, NC
DJ's Berry Patch, Apex, NC
D & L Farms, Chapel Hill, NC
Faucette Farms, Browns Summit, NC
Flat River Nursery, Timberlake, NC
Gross Farms, Sanford, NC
Hall Family Farm, Charlotte, NC
Ingram Farm, High Point, NC
Iseley Farms, Burlington, NC
Maple Springs Farm, Dallas, NC
McAdams Farm, Efland, NC
Miller's Strawberry Farm, Graham, NC
Oakley Farm, Chapel Hill,NC
Patterson Farm, China Grove, NC
Porter Farm & Nursery, Willow Springs, NC
Rudd Strawberry Farm, Greensboro, NC
Smith's Nursery & Strawberry Farm, Benson, NC
Southside Farms, Chocowinity, NC
Steeple Hill Farm, Summerfield, NC
Strawberries on 903, Winterville, NC
Tuckers Farm & Nursery, Madison, NC
Tuttle Berry & Vegetable Farm, Stoneville, NC
Vollmer Farm, Bunn, NC
Whitaker Farms & Greenhouses, Climax, NC
NCSA Member Strawberry Farms Outside North Carolina:
South Carolina
Berry Plantation, North Augusta, SC
Bush -N- Vine Farm, York, SC
Charpia Farms, Summerville, SC
Hardy's Berry Farm, Anderson, SC
Hunter Farm, Easley, SC
JL Belue Farms, Spartanburg, SC
Springs Farm, Fort Mill, SC
Strawberry Hill, USA, Chesnee, SC
Virginia
Brookdale Farm, Virginia Beach, VA
Chesterfield Berry Farm, Mosley, VA
College Run Farms, Surry, VA
Cullipher Farm Market, Virginia Beach, VA
Flanagan Farms, Virginia Beach, VA
Lilley Farms & Nursery, Chesapeake, VA
Mackintosh Fruit & Berry Farm, Berryville, VA
Miller Farms Market, Locust Grove, VA
Mt. Olympus Berry Farm, Ruther Glenn, VA
Pungo Produce, Virginia Beach, VA
Vaughan Farms Produce, Virginia Beach, VA
Wegmeyer Farms, Hamilton, VA
Westmoreland Berry Farm, Oak Grove, VA
Georgia
Calhoun Produce, Ashburn, GA
Color Burst, Grayson, GA
Lane Packing/Southern Orchards, Fort Valley, GA
Ottawa Farms, Bloomingdale, GA
Southern Belle Farm, McDonough, GA
Southern Grace Farms, Enigma, GA
The Strawberry Patch, Reynolds, GA
Twin Oaks Fun Farm, Forsyth, GA
Washington Farms, Athens, GA
Other States (alphabetized by state/province abbreviation, then farm name)
Alliance Farm Group, San Luis Obispo, CA
Pell Farms, Somers, CT
Fifer Orchards, Wyoming, DE
Berry Patch Farm, Nevada, IA
Mayneland Farm, Naperville, IL
Mrs. Heather's Strawberry Patch, Albany, LA
Nourse Farms, South Deerfield, MA
Harman's Farm Market, Churchville, MD
Oakley's Farm Market, Salisbury, MD
Shlagel Farms, Waldorf, MD
Polter Berry Farm, Fremont, OH
Stacy Family Farm, Marietta, OH
Heeman Farms, Thorndale, Ont
Strawberry Tyme Farms, Simcoe, Ont
Kuhn Orchards, Cashtown, PA
Bradley Koutry Acres & Greenhouse, Cottontown, TN
Green Acres Berry Farm, Milan, TN
McPeak Orchards, Pittsburg, TX
Sweet Berry Farms, Marble Falls, TX
Thompson Strawberry Farm, Bristol, WI
Raising Strawberries in the Home Garden
We're working on developing this page. In the meantime, here are some resources available:
Teach from the Garden: Strawberries (NC) --- This is for school gardens using plastic-covered beds. But it is very helpful for home gardeners too!
Home Garden Strawberries (Georgia) First part is perennial production, the second part tells how to raise them as annuals in a raised bed. Both systems work in North Carolina.
Growing Strawberries (SC) Like the Georgia page, a good overview of two different ways of production.
Strawberries in the Home Garden (NC, 1993) -- Very out of date, oriented toward perennial bed production.
---
Grapes Berries for the Home Garden NC-Extension Publication.pdf
About North Carolina's Strawberry Industry
North Carolina is a leading producer of strawberries. North Carolina ranks third in the U.S. in strawberry production, based on value of the crop harvested.
Acreage in production: approximately 1600 (2012, USDA figures)
Total annual production: approximately 20.3 million pounds (2012, USDA figures)
Value of annual strawberry crop: $29.4 million farm income (2012, USDA figures)
One thing that distinguishes North Carolina is that almost all of the fruit produced in the state is sold for fresh market right here in the state -- direct to consumers as Pick-Your-Own, at farm stands, or to local supermarket chains. The top two states, California and Florida primarily grow for shipping. Oregon, which leads North Carolina in total production but not in value of the crop, grows primarily for processing.
North Carolina also has several nursery producers of strawberry plants. Most of these are shipped to Florida and set out by growers theres. Some of these NC-produced plants are used here in North Carolina. North Carolina consumers can pick fresh, ripe, strawberries.
Harvest season: Harvest generally starts in the southeastern Coastal Plain in early April, in the Piedmont in mid- to late-April, and in the western part of the state in early May. Depending on weather, most farms pick for 5-8 weeks. Cool spring weather prolongs the season, while hot weather, especially in May, shuts it down. May is considered the main season and is "Strawberry Month" in North Carolina.
North Carolina growers are working hard to have berries available as many weeks of the year as possible. Using frost protection, with irrigation or row covers, helps have early berries. Some growers are also producing fruit "off season" with high tunnels or greenhouses. These growers can have ripe berries in fall, winter, or very early in the spring. A few growers are also planting types of berries called "day neutrals" that can bear fruit throughout the summer.
Check with your local farm to learn its expected harvest season.
---
Production Methods
Strawberries on plastic: The great majority of North Carolina strawberry farms use the "Southeastern plasticulture method." Plants are set out into black plastic mulch in the fall of the year. Irrigation and some fertilization are supplied through "drip tape" laid under the plastic at the time of planting. The plants continue to grow during warmer periods over the fall and winter. In late winter and early spring they start to grow in earnest. Growers protect the early flowers from late frosts (March-April) with overhead irrigation at night. Many growers also use "row covers," which are blankets of thin, translucent spun-bonded polyester, to protect their plants in cold weather. Though strawberries are perennial, plasticulture strawberries are grown as annuals, with harvest only 7-8 months after planting and new plants set out every year. Plant density is high (up to 17,500 plants per acre) and the farmers' investment in the crop is substantial. Per-acre production: 15,000-25,000 lbs
Southeastern plasticulture was first developed by NC growers and NC State University researchers in the mid-1980s, adapting aspects of Florida and California production methods to the Carolina climate. This method has now spread to neighboring states and is being adapted to colder areas. North Carolina is recognized as a leader in plasticulture research and information.
Favorite plasticulture varieties:
Chandler: The leading variety, most widely planted for many years. Early plasticulture research showed that this California variety was especially well adapted to NC conditions. This high-yielding variety produces large, well-colored, juicy fruit.
Camarosa: A newer introduction from California, Camarosa has very large, dark red fruit. The fruit is firmer than Chandler and has a longer shelf life, so it is preferred for wholesale marketing. Camarosa is best when picked fully ripe and well colored.
Sweet Charlie: A variety from Florida, Sweet Charlie is the earliest ripening of our varieties. The fruit has a distinctive, very sweet flavor.
Bish & Galleta : These North Carolina varieties were developed by NC State University plant breeder Dr. Jim Ballington and released in 2002 (Bish) and 2006 (Galletta). They are disease-resistant and especially well suited to the upper Piedmont and Mountain regions.
Other varieties: Gaviota, Albion, Seascape, Camino Real, Strawberry Festival, Ventana, Treasure, and others, in smaller or experimental plantings. The North Carolina Strawberry Association supports NC State University research to breed new varieties especially adapted to this region, and several promising selections are currently being tested.
Matted row strawberries
The "matted row" method is used by many home gardeners and by some commercial growers, especially the northwestern Piedmont and Mountains. An older method that has been used for many, many years, matted row is also prevalent in colder regions of the United States. Plants are set out in spring or early summer on bare grown and allowed to send out runners with daughter plants that also take root, making a wider "matted" row. The first substantial crop comes the following year, about 12 months after planting. The field produces for 2-5 years and is then replanted. Per-acre production: 6,000-8,000 lbs.
Favorite matted row varieties: Earliglow, Allstar, Jewel, Honeoye, Delmarvel.  Atlas, Apollo, and Titan, varieties developed in North Carolina, are no longer much used commercially but are still grown by some home gardeners. North Carolina has several nurseries that supply these matted row varieties.
---
Strawberry History
Strawberries are indigenous to both the northern and southern hemispheres. They have been found growing by the seaside, in the woods, and on mountain tops. The strawberry was first described in literature as early as 1000AD and the first sketch of a strawberry plant was printed in 1484. The first mention of strawberries occurred sometime between 234-149 BC in the writings of Cato, a Roman Senator. The first descriptions published were mostly for the medicinal uses of the plant and not for the benefits of the fruit. For a period of time in the 12th Century Saint Hildegard Von Binger, then an abbess, pronounced that strawberries were unfit to eat due to the fact that they grew close to the ground; it was thought that the fruit was contaminated by the snakes and toads that may have touched them. This, along with the support of her theory by local political figures, caused many people to avoid the fruit and decreased its growing popularity. Charles Linnaeus, however, put this superstition to rest by prescribing for himself a diet of only the fruit.
Strawberries began to be sold at a London marketplace around 1831. They were most likely harvested from nearby fields or woodlands and not from "commercial" production areas. In England and mainland Europe as the consumption of strawberries became more popular, many commoners as well as aristocrats would have a patch in their home gardens. France, though, became the the front runner in strawberry production.
The word Strawberry is in itself, peculiar to the English language. The name has a variety of possible origins. Straw was commonly used to mulch the plants during the winter and as weed and soil control to keep the berries cleaner. In London children used to collect the berries, string them on pieces of straw, then sell them at the markets as "Straws of Berries". The runners which the plants produce are said to be strewn or dispersed around the plant. In some literature the fruit is called strewberry. In Latin the fruit is referred to as "Fragra" or Fragrant. Charles Linnaeus gave strawberry the species name of Fragaria. In French, Italian, and Spanish the fruit is referred to as a "Fraise" or fragrant berry.The Narragansett Indians of North America called the fruit "wuttahimneash" or "heart berry".
The explorer Cartier brought strawberries back to France from his first trip to the Quebec Province of Canada in 1534 while another explorer, Harriot, brought plant specimens with him from Virginia to London.Image of a hand holding 5 huge strawberries Other strawberry plants were brought to Europe from Chile and Peru where they had been cultivated and marketed long before the Spanish arrived. The strawberry plants found native in North America, were superior to all European varieties in size, flavor, and beauty. Only in 1697 were the first detailed accounts of strawberry production for larger fruit, including correct soil conditions, pest problems etc. written by the gardener at Versailles. In the 18th Century one of the first breeding crosses was made to improve the strawberry. A Virginia variety with good flavor and fruitfulness was crossed with a Chilean variety which lent the resultant offspring both size and firmness. This variety became known as the Pineapple or Pine strawberry due to its distinctive flavor.
"Hudson" was the first strawberry hybrid developed in the USA in 1780. And in 1843 Cincinnati Ohio growers were the first to ship strawberries using refrigeration, in the form of ice placed on top of the boxes. This development led to increase marketing areas and yet more increase in popularity.
Strawberry Nutrition
Strawberries are a delicious, nutritious, fat-free food.
Strawberries are high in Vitamin C. A serving of strawberries contains more Vitamin C than a medium orange. Vitamin C helps your body heal, resist infections, and maintain healthy bones, gums, and teeth.
Strawberries are a significant source of fiber in the diet. They are also a good source of potassium and manganese. Strawberries are also rich in antioxidant compounds such as anthocyanin, quercetin, resveratrol, and ellagic acid. Studies indicate that these compounds found in strawberries may help reduce the risk of heart disease, cancer, hypertension, and Parkinson's disease and reduce some of the cognitive declines of aging. There is also evidence that strawberries have properties that may assist with weight loss and with diabetes control. Like other richly colored berries, they are truly a superfruit!
One serving of fresh strawberries (one cup or about 6-9 berries) contains:
-only 50 calories
-no fat,cholesterol, or sodium
-140% of the RDA for Vitamin C
Frozen strawberries retain all the nutritional benefits of fresh strawberries.
---
Strawberry Nutrition: Vitamin C And Other Benefits Of Strawberries That Help You Live Longer
From Medical Times, June 11, 2013
Strawberries are the fifth most preferred fresh fruit in the United States due to their abundance of nutrients, reports the United States Department of Agriculture (USDA) Economic Research Service (ERS). This ripe treat has seen an increase in its domestic consumption rates due to high antioxidant levels, folate, potassium, vitamin C, and fiber content, all of which are proven health aids. Fresh strawberry consumption accounted for 7.17 lbs. per person in 2009 — an exponential increase from 1.73 lbs. in 1970 — says the USDA ERS. Even frozen strawberries were said to have averaged 1.54 lbs. per person in 2009, which highlights that whether fresh or frozen, Americans are consuming this super food as part of their staple diet.
Karlene Karst, registered dietician (R.D.) and published author, told Medical Daily, "They [strawberries] are a great source of Vitamin C, and may help boost your immune system." Karst believes that this fat-free, sodium-free, cholesterol-free, and low-calorie fruit is a fantastic addition to any diet. With more than 600 varieties of this sweet fruit and 200 seeds in one single strawberry, there are fun, healthy uses to this super food. "Crushing them up with yogurt as a face mask to heal acne without scarring, and as a conditioner mixed with mayonnaise for your hair and scalp" are two beauty treatments that Tampa Bay health and wellness doctor, Dr. Jamie Brunet, M.D., of Bain Complete Wellness, shared with Medical Daily.
This nutrient-rich and delicious fruit is a valuable source of antioxidants like quercetin, kaempferol, chlorogenic acid, p-coumaric acid, ellagic acid, and vitamin C that provide protection from the exposure of free radicals, help the body against several diseases, and reduce levels of cholesterol, says The Cancer Cure Foundation (CCF). To ensure you receive all of the health benefits of strawberries to keep you looking and feeling younger, the Centers For Disease and Control Prevention (CDC) recommends 1.5-2.5 cups of fruit — eight large strawberries count as one cup. If you want to meet the daily fruit requirement, 12 to 20 strawberries per day would meet the CDC's required amount.
While you consume the succulent, sweet fruit, learn how vitamin C and other nutrients in strawberries can help you live longer.
Healthy Eyes
Three or more servings of fruit per day can reduce the risk of developing age-related macular degeneration (ARM) — a chronic eye condition that causes vision loss — says Mayo Clinic. In a study published in the Archives of Ophthalmology, researchers found that fruit intake was inversely associated with the risk of neovascular ARM. Participants who consumed more than 1.5 servings of fruit per day reduced their risk of ARM by over one-third. The vitamin C levels in strawberries help protect the eyes from free radicals from UV rays that can potentially damage the protein of the lens.
Healthy Skin
The antioxidant, ellagic acid, can help prevent wrinkles and repair skin damage caused by UV rays. In a study conducted at Hallym University in the Republic of Korea, researchers applied the antioxidant onto human skin cells in a lab and onto the skin of hairless mice that were previously exposed to high-intensity UV rays. The results of the study showed that in the human cells, ellagic acid reduced the destruction of collagen and inflammatory response — the causes of wrinkles — says Mayo Clinic. The mice in the study produced similar results — half of the mice were given daily topical applications of ellagic acid and the other half did not receive the antioxidant. The group that developed wrinkles and thickening of the skin did not receive ellagic acid, whereas the ones who showed less wrinkle formation were the ones who received the application of the antioxidant after being exposed to the same levels of UV rays.
Healthy Brain Activity
The polyphenol compounds found in strawberries have been linked to promoting proper brain functionality by protecting the central nervous system against neurodegenerative diseases, such as Alzheimer's, Parkinson's, and dementia, says Medscape. In an article published by National Institutes of Health (NIH), researchers suggest that the polyphenols promote healthy brain activity either through their ability to lower oxidative stress and inflammation or by directly altering the signaling involved in neuronal communication, among other things. The inventions of the polyphenols may protect against age-related issues in cognitive and motor function.
Healthy Heart
Strawberries can regulate blood pressure due to their potassium content of 18 milligrams, says Self. Blood pressure is regulated and high blood pressure can be reduced as potassium fights the effects of sodium that can be detrimental to the body. The antioxidants and phytochemicals in this fruit are linked to reducing inflammation in the joints, a risk factor for arthritis and heart disease. A study was published where strawberry intake was assessed with blood levels of C-reactive protein (CPR) — signals of inflammation in the body. The results of the study showed that those who consumed the most strawberries experienced lower bloods levels of CPR, which reduces risk for heart disease and stroke.
Healthy Cancer-Free Immune System
The high content of vitamin C found in strawberries has been linked to cancer prevention. The ellagic acid has anticancer properties that can kill cancer cell growth, says the American Cancer Society. Ellagic acid has been found to reduce the effect of estrogen in the growth of breast cancer cell tissue cultures.
Healthy Prenatal Development
The folic acid and vitamin C from strawberries aid in the brain development of the fetus during pregnancy. "Folic acid fights anemia during pregnancy," Brunet told Medical Daily. "Folic acid-like that found in strawberries should be part of pre-pregnancy diet to help prevent birth defects of the baby's brain and spinal cord." Folic acid is a vitamin that plays an important role in the production of red blood cells. Brunet recommends all women who are of child-bearing age to take folic acid everyday.
Read more at Medical Times.